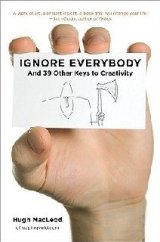 Ignore Everybody
And 39 Other Keys to Creativity
Editorial Review
Ignore Everybody expands on MacLeod's sharpest insights, wittiest cartoons, and most useful advice. For example:-Selling out is harder than it looks. Diluting your product to make it more commercial will just make people like it less.-If your plan depends on you suddenly being "discovered" by some big shot, your plan will probably fail. Nobody suddenly discovers anything.
Book Reviews
"Hugh MacLeod's Ignore Everybody and 39 Other Keys to Creativityis a brilliant book, especially if you think you are under confident about your creative ideas." The Creative Penn
"As he began finding success as a cartoonist, marketer and Web pundit, Hugh MacLeod posted a list of 40 "keys to creativity" on his popular blog, gapingvoid.com." Content Time
"Hugh MacLeod changed my outlook on creativity. He gave me power, control and ownership over what I was doing." The Belonging Blog
Ignore Everybody: and 39 Other Keys to Creativityis a book about creativity. It contains a collection of 40 tips on how to be creative. The book is an extension to the 'How to be creative' manifesto which the writer (Hugh MacLeod) published a few years ago, so a lot of content has already been available… but it's still an inspiring book.